Catface
STUDIO CATFACE HAIR CHARMS DREAD LOC & BRAID ACCESSORIES - GOLD TREES
10 pieces per pack 
F O R   A L L  H A I R  T Y P E S
If you would like to bulk order or have any questions, please get in touch: shop.catface@gmail.com

Use the hashtag #CATFACEHAIR to share your lovely hair styles and photos
Please allow up to 3 days to process your order
Feel free to ask any questions

Worldwide shipping available
LIFE & STYLE CREATIVE DESIGN FOR EVERYONE 
WWW.CATFACE.ME

CATFACE IS A CREATIVE DESIGN BRAND AND STUDIO. A SAFE SPACE FOR SELF EXPRESSION AND ART CREATION. OUR DESIGNS AND SERVICES ARE AUTHENTIC AND OUT OF THIS WORLD.
WE ARE PROUD TO HAVE THE BIGGEST AND EVER GROWING HAIR EXTENSIONS COLOUR LIBRARY, A NETWORK AND COMMUNITY OF WORLD-CLASS COOL CATS, A HOST OF BESPOKE SERVICES, ARTISTRY  AND DESIGNS THAT WILL MAKE YOU MELT WHEREVER YOU ARE.
ABOUT THE BRAND
Catface Hair is 100% premium SYNTHETIC AND REAL HAIR EXTENSIONS ARE CREATED IN HOUSE - YOU WOULDNT FIND OUR DESIGNS ANYWHERE ( WATCH OUT FOR THE FAKES).
Designed and created by 

Mariette

 Immaculate also known as Catface, because of her big almond shaped eyes and big grin - like a Chesire Cat! 

Catface Hair is based in London but caters for all types of hair from all parts of the world. From America to Nigeria, Brazil to Germany, let us know where you are on this beautiful planet and we will do everything possible to get the hair to you.

/ DJ BOOKINGS 

PRESENTER / DJ BOOKINGS  
LITTLE@CATFACE.ME
(PROJECTS, COMMISSIONS & CAMPAIGNS 
MARIETTE@CATFACE.ME
HAIR & FASHION STORE 
SHOP@CATFACE.ME
TRAVEL, LIFE &  STYLE 
MARIETTE.IMMACULATE@GMAIL.COM CUSTOM DESIGN CUSTOM@CATFACE.ME
CONTENT + STUDIO SERVICES 
STUDIO@CATFACE.ME
PODCAST
THECONSTITUTION@CATFACE.ME 
CATFACE.ME | SHOP.CATFACE.ME | STUDIO.CATFACE.ME | DJ.CATFACE.ME DARKERARTS.CATFACE.ME | THECONSTITUTION.CATFACE.ME :


PLEASE NOTE: WE ARE NO LONGER AT THE BRIXTON ADDRESS. PLEASE DIRECT YOUR ENQUIRIES ONLINE -- SHOP@CATFACE.ME
RETURNS + REGISTERED ADDRESS: 
18 BORLAND ROAD 
TEDDINGTON
TW11 9HP
UNITED KINGDOM 





ABOUT CATFACE

MULTI-DISCIPLINARY ARTIST & BRAND

------------------------------------------------------------------------------------------------------------------------------------------------------------------------------------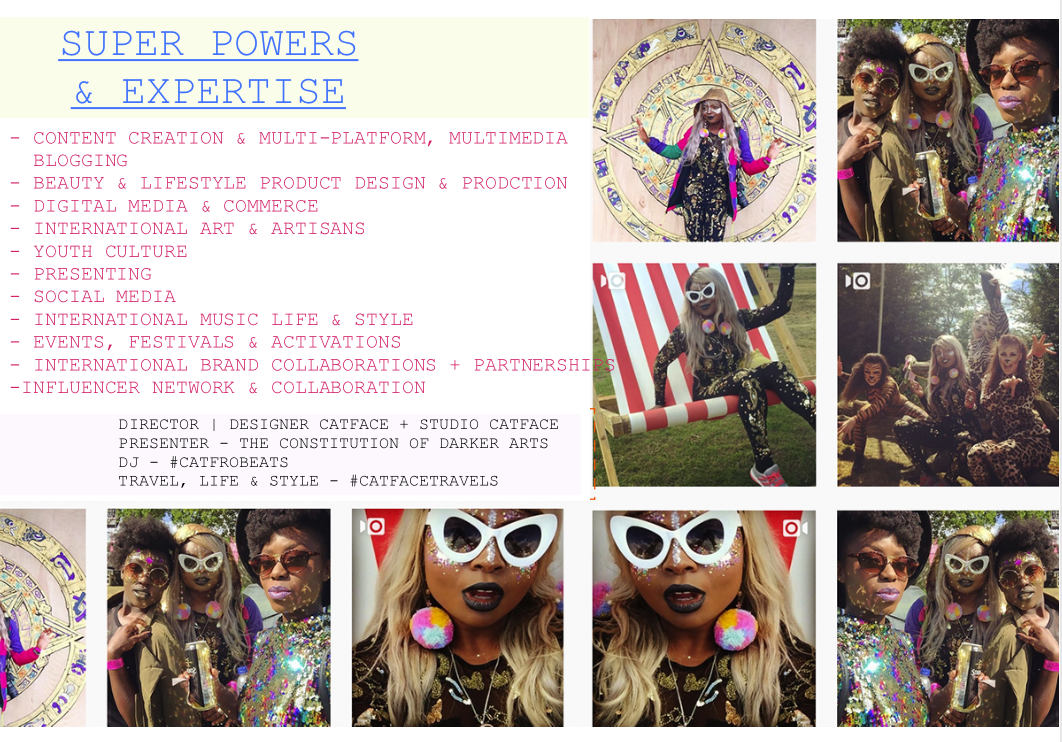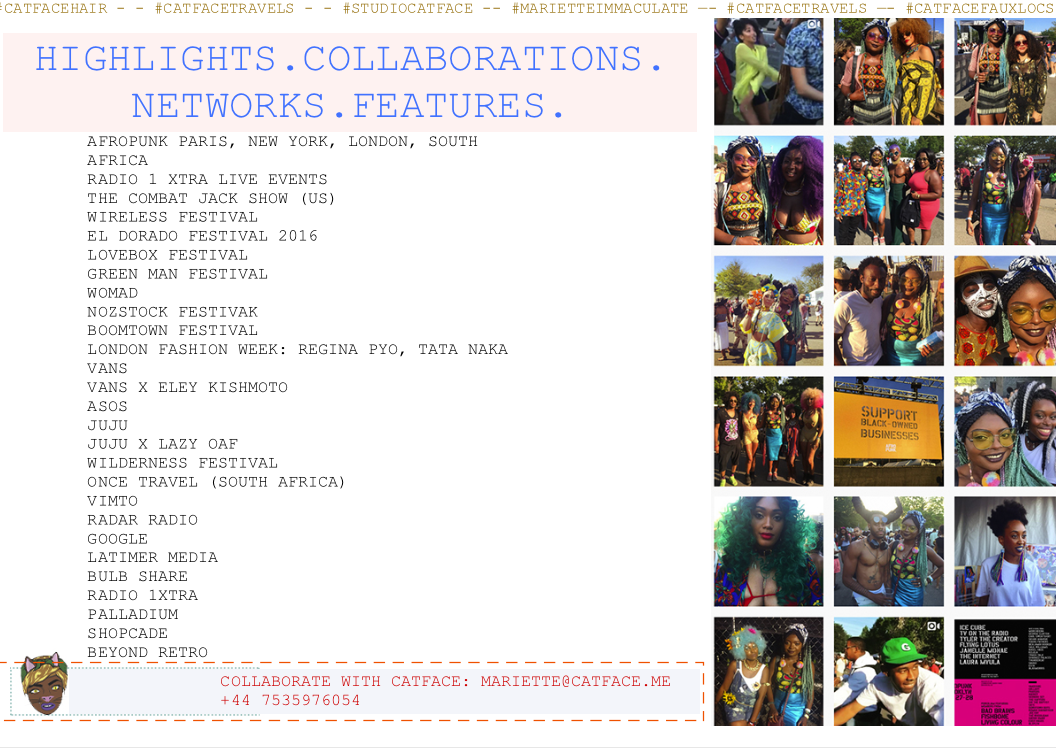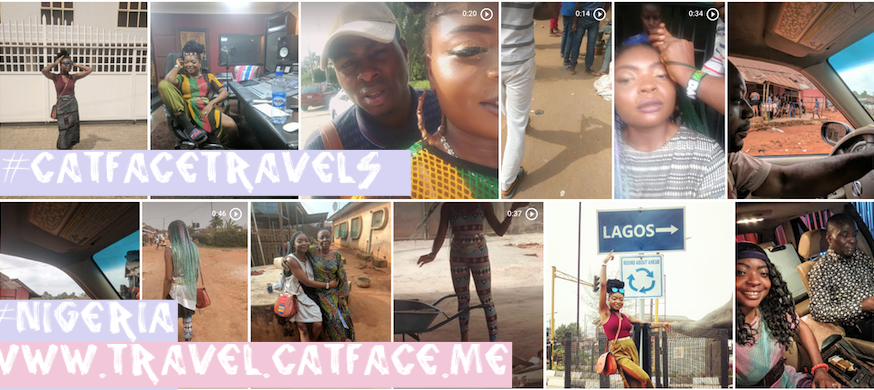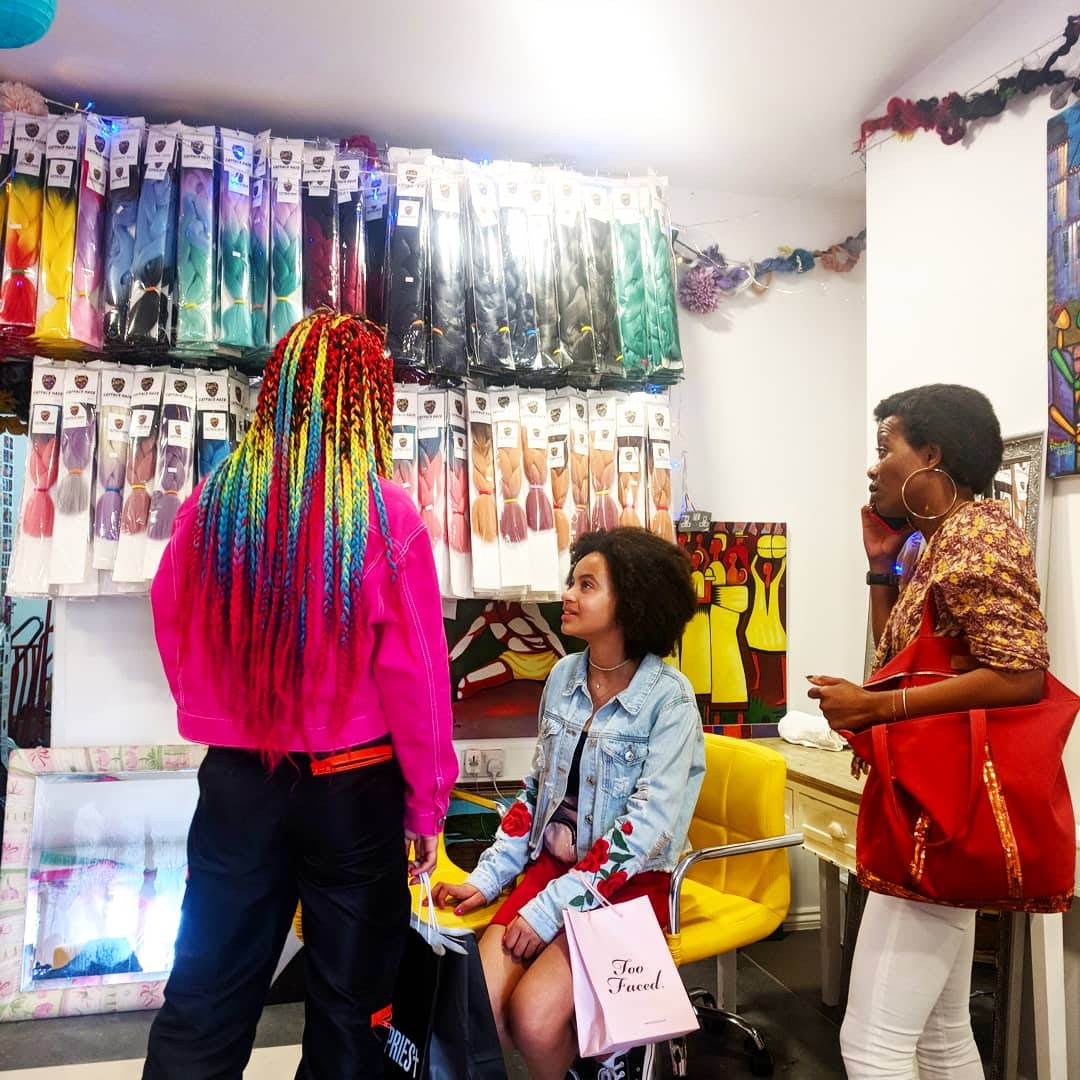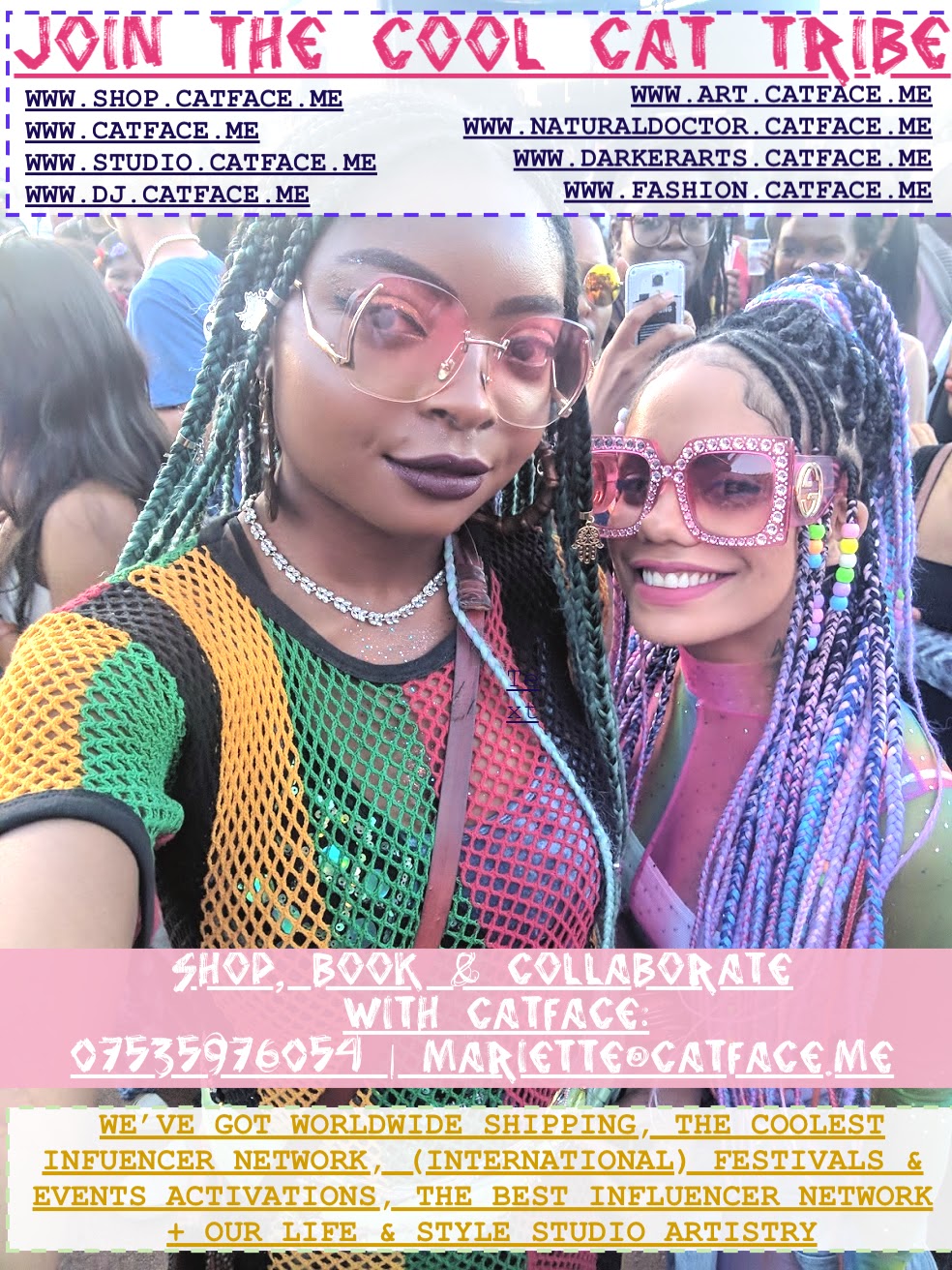 WORK EXPERIENCE 
JANUARY 2010 - PRESENT (2020): CREATIVE DIRECTOR - CATFACE
Creating and producing multi-media and  life + style products, content and services for CATFACE.
Managing & expanding CATFACE'S worldwide online (social media + ecommerce + influencer & VIP networks) and offline (studiocatface  & CATFROBEATS events) communities and clients.
At CATFACE, our community of cool cats are the most diverse and global audience you'll ever come across. I am very dedicated to creating (localised) content and products that speaks to cats wherever they are in the world.
Business opportunities and partnerships 
▪ Gained coverage in Cosmopolitan, Company and Elle UK  ▪ Featured in Shopcade's book on the coolest content creators in London  ▪ Interviewed David Gandy, Laura Whitmore, Abandon Ship and Hayley Scanlan at the Scottish Fashion Awards 2014 
OCTOBER 2015 – JANUARY 2017: SOCIAL MEDIA MANAGER, CULTURAL-AGENDA (C-A)
o Develop and implement the digital/social media aspects of clients' campaigns by negotiating collaborations  between social media influencers and clients o Developing strategy & multimedia brand content for C-A's digital space. This includes managing C-A's website, blog, and social media channels and supporting the PR team with digital PR initiatives and by taking traditional campaigns online o Compiling weekly and monthly social media reports with recommendations  ▪ Managed the redesign and development of the CBS' website, contemporarybritishsilversmiths.org  ▪ Managed Smallbone of Devizes' social media channels (Twitter, Instagram, Pinterest)  ▪ Brokered blogger collaborations between design brand, Alessi and ThePetitCook and LittleBigBell  ▪ Clients: Alessi | Smallbone | Christopher Guy | Decorex | Dedar Milano | Alma STEPEVI | Nigel Coates | Contemporary British Silversmiths (CBS) | LAPADA 
APRIL 2015 – SEPTEMBER 2015: DIGITAL MARKETER, APOGEE CORPORATION
  o Created and developed both the digital strategy and content for the UK, French and German franchises. Worked alongside the Head of Marketing and European Marketing Manager to establish formal brand guidelines and marketing collaterals. Conducted market research and collected business intelligence on competitors to produce weekly and monthly digital analytics and reports with recommendations 
JANUARY 2015 – April 2015: Social Media Content Creator, Taylor Kerek (TK)
o Developed content strategy and generated traffic to client's website through social media platforms o Implemented promotional strategies, online and offline o Sourced content for TK and its clients social media channels  Clients: Best Beginnings Charity | Working with Men Charity The BADA Fair | National Council of Women GB 
JANUARY 2014 – JANUARY 2015: MULTIMEDIA ONLINE EDITOR, ALEXANDALEXA
o Created exciting and relevant content (blog posts, podcasts and video content) for AlexandAlexa's social  channels and blog o Managed upload of new content and working to increase subscriptions and views through blogger outreach,  optimized metadata and trends o Worked closely with Senior Editor, Head of Search and Head of Brand to produce videos and photographs of  press days, interviews with designers, artists and models, fashion shoots, "how to videos" and editorials  ▪ Produced Behind the scenes videos for AlexandAlexa's Ski, Christmas and Girls Dresses Shoot  ▪ Produced Family Friendly Festival video guide featuring Womad, Wilderness, Nozstock and Greenman  ▪ Behind the Brand video interviews with Molo Ski Wear, Abandon Ship Apparel and Karen Brost 
JANUARY 2013 – JUNE 2014: 'JEMMFRESH' RADIO PRESENTER
o Hosted a two hour dance music radio show from Mondays – Thursdays o Interviewed DJs and artists, produced the news segment and introduced new music  -ENDS-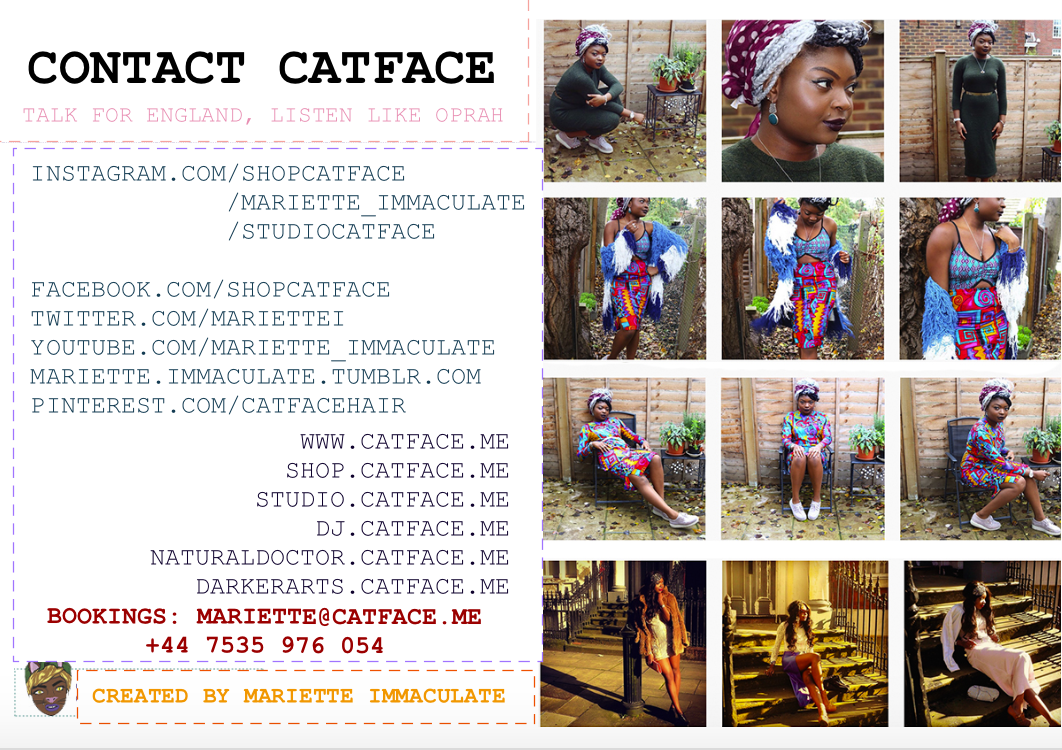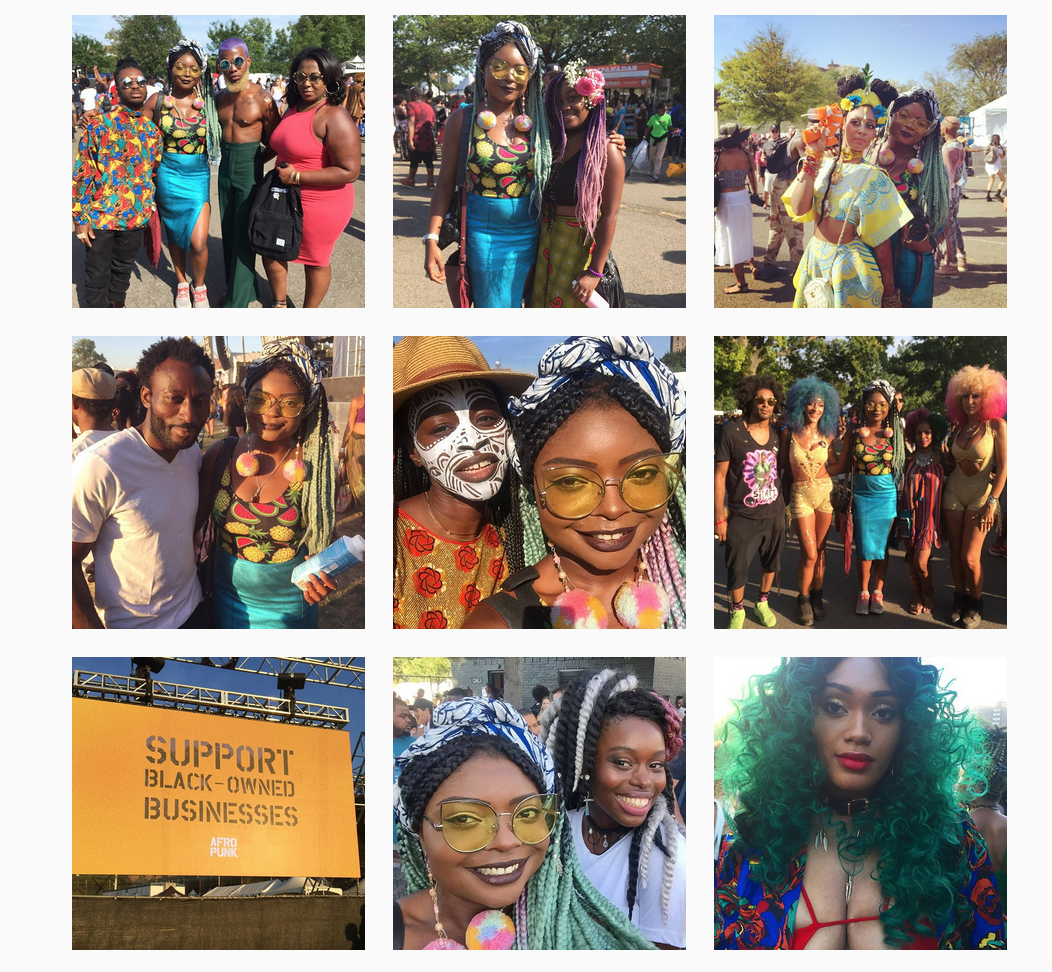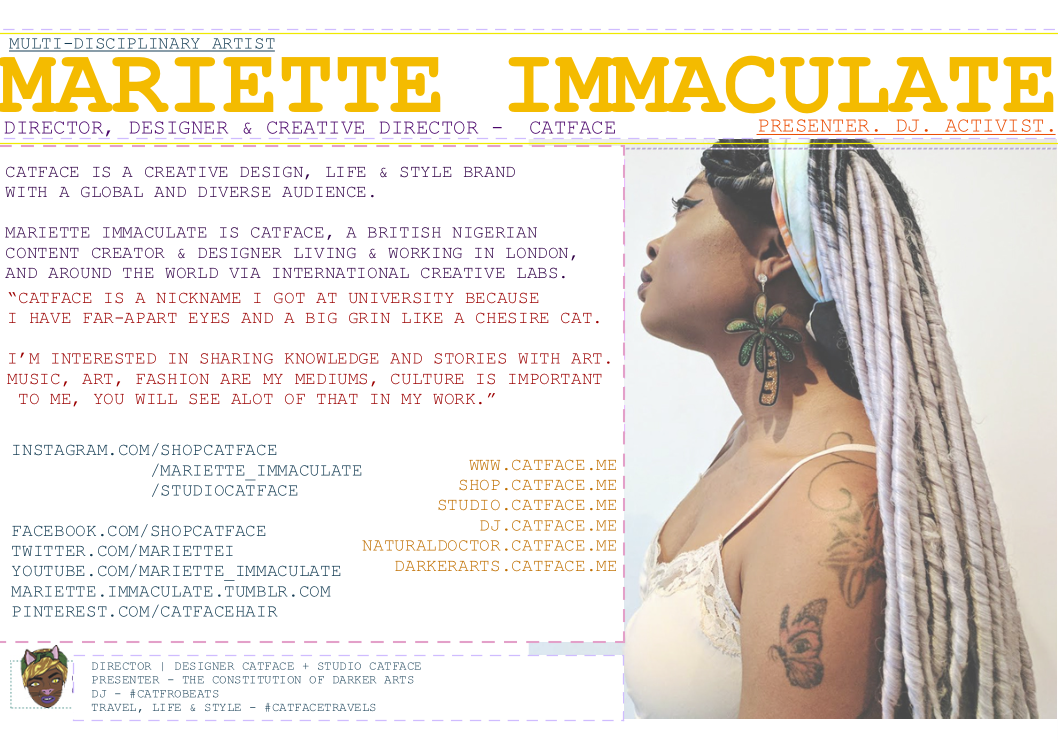 Catface Hair is a natural extension of my blog and everything that inspires me. Culture, fashion, books, bloggers, artists and much more. I love to explore what culture means to other people in different parts of the world and to be able to share that with others is truly a blessing.



ABOUT CATFACE

Mariette Immaculate is
Catface
,  a creative from
London
. She presents, blogs, writes, produces video and lots more. She loves talking, vintage fashion and consults on social media.

If you have any questions about her work or would like her work on your project, please get in touch >>
mariette@catface.me

#CATFACEHAIR is for fun and sassy souls, made only from the best
synthetic fibres and dyed with care.
100% PREMIUM SYNTHETIC

HAIR

 

LENGTHS:

24 INCHES

100 GRAMS A PACK
CAN BE SEALED WITH HOT WATER


DO YOU CREATE CUSTOM COLOURWAYS?
Yes, you can request any colour combination to create your own ombre  jumbo braiding
hair
. However, there is a minimum  order requirement of 12 packs to create custom colours. You can create a combination from two to four colours.
TO CREATE CUSTOM COLOURS:
SEND A PICTURE OF THE COLOURS YOU WOULD LIKE

ALLOW 14 DAYS FOR CUSTOM COLOURS TO BE CREATED
------------------------------------------------------------
HOW MANY PACKS DO I NEED?
It really depends on the hairstyle you are going for. On average, most customers order from 8 packs for a full head (depending on your hairtype and length.
If you would like a really really full look of thick braids, get 10 packs for a full head.
Don't forget this
all
depends on your hairstyle and size of your braids/twists
------------------------------------------------------------DO YOU SHIP TO MY COUNTRY?
Yes, you can order from any part of the
world
, shipping is from the mother ship in
London
, United Kingdom.  If you are outside of the United Kingdom, please allow at least 7 working days to 14 working days for your order to arrive.
All 
parcels are sent through a tracking services and most have to be signed for.
------------------------------------------------------------DO YOU WORK WITH BLOGGERS AND SOCIAL INFLUENCERS?
Yes! Please get in touch:
MARIETTE@CATFACE.ME
------------------------------------------------------------
WHAT TYPE OF

HAIR

IS IT?

#CATFACEHAIR SYNTHETIC HAIR is 100% Kanekelon

Hair extensions
#COSMIC CATFACE WEFT HAIR is 100% virgin hair GRADED 10 A dyed

It is suitable for

all

hair 

types